PRT PowerSleeve® / Field Wetted
PRT PowerSleeve® is our Field-Wetted 100% solids epoxy, engineered composite system. In the PRT design process it is used to encapsulate internal corrosion and act as a barrier against future through wall conditions in piping repairs. It also provides substantial hoop and axial strength reinforcement properties.
PRT PowerSleeve® consists of a high strength E-glass and Kevlar® hybrid fabric. It is a tri-axial, non-crimped design that is factory pre-treated to assure absolute micro-fiber matrix saturation. Alternate custom fiber alloys and carbon fiber are available for special applications.
PRT PowerSleeve® engineered composite systems combine our hybrid fabric with a PowerMatrix™ 100% solids, impermeable epoxy matrix. In addition to our high performance Standard Matrix, the PowerMatrix™ line has differing formulations for specific high heat requirements and chemical resistance applications.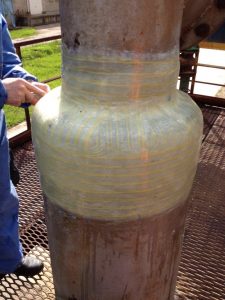 PRT PowerSleeve is effective in a variety of applications. In addition to piping encapsulations, it is ideal for layups on complex, curved and irregular surfaces due to its conformability. Also, because of the exceptional adhesion properties of the PowerMatrix™ epoxy, it is highly effective for containment and reinforcement of flat surface repairs.
PRT PowerSleeve® kits are size specific packages for pipe diameters ranging from 6 inches to 108 inches. Each kit ships with the precise, factory measured fiber reinforcement and PowerMatrix™ quantities for the repair of a specified pipe diameter. This factory pre-measuring system eliminates field installation errors and assures proper saturation levels. Complete installation supplies such as primer, stricture banding, spreader, gloves, safety glasses, mixing sticks, brushes and UV protective paint for final topcoat are also included in the kits. Because of these controls and preparations, PRT PowerSleeve® installations are efficient and trouble free.
*** FOR MORE INFORMATIONS CONTACT US ***
Download the field to have a quotation with Aquawrap or Powersleeve.
What Kind of Pipes?
Aluminum
Cast iron
Copper

GRE
Polyethylene
Stainless steel

Carbon steel
Concrete
Fiberglass

PVC
Polypropylene
Titanium
Temperature Adjusted Pot Life and Set Times Half or Double for Each 10°C Change.
| | | |
| --- | --- | --- |
| TEMPERATURE | POT LIFE | SET TIME (layup) |
| 45°C (113°F) | 7.5 minutes | 1 hour |
| 35°C (95°F) | 15 minutes | 2 hours |
| 25°C (77°F) | 30 minutes | 4 hours |
| 15°C (59°F) | 60 minutes | 8 hours |
| 5°C (41°F) | 120 minutes | 16 hours |
What Types of Repairs ?
Abrasion / wear resistance
Bend repairs
Corrosion mitigation
Cracks
Dents / gouges
Encapsulation

Full hoop / axial strength replacement
Isolation / Insulation
Leak repair (special applications)
Manufacturing / fabrication defects
Structural reinforcement
Weld joint/HAZ reinforcement
Pressure testing of a repaired pipe section pursuant to the "Short Term Spool Test" in appendix III of ASME PCC-2.
6″ X42 80% Wall Loss Machined Defect 6.625" x 3.125"
Tested to 8200 psi With No Failure per ASME PCC-2
Are you intesrested with some of our products ?
Please download the field and send us back to have a quotation with Aquawrap or Powersleeve.